I went up to Muncie Indiana on November 1, 2020.  It was rather cold and windy up worth it.  At Minnetrista it was the second day of the Bob Ross Experience.  Before heading there my parents and I stopped at Concannons Bakery for some amazing donuts and coffee.  We then made our way to the main building and attended a talk by Jim Needham, one of the producers of the Joy of Painting from the second season to 1992.  He was entertaining telling us stories of his friend Bob Ross and the story of the Joy of Painting.  Bob would bring in the critters unannounced and sometimes to the dismay of the production team.  Jim was the head of the PBS station WIPB now Ball State PBS from 1976 to 1992 and friends with Bob Ross.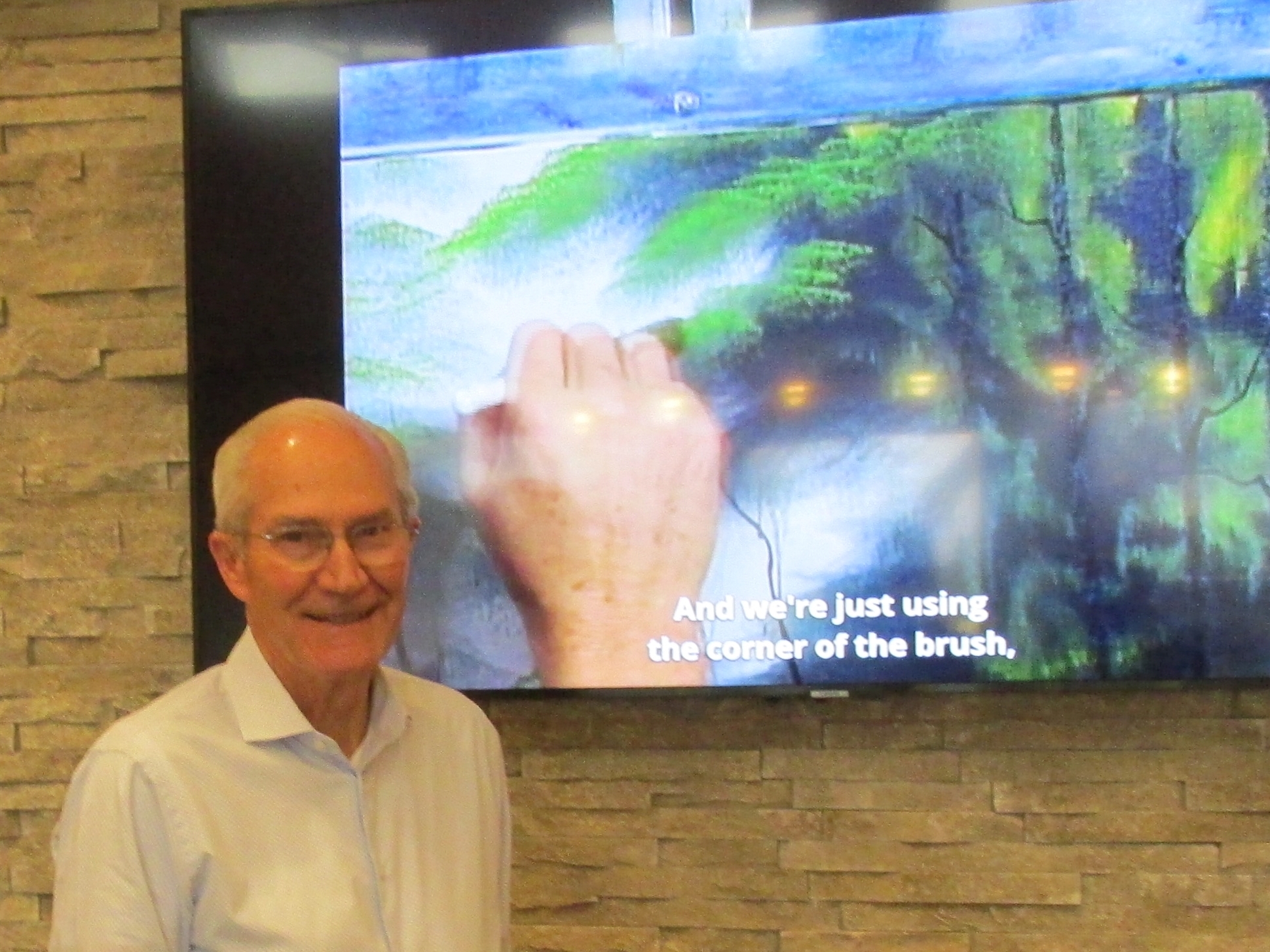 Jim Needham a producer of the joy of painting on 11=1-2020 at Minnetrista.
The stories he told were entertaining, funny, and sad.  His favorite memory of Bob was when they went to Nashville and the Grand Ole Opry.  He was kind enough to pose for the photo and I told him a little about Two Inch Brush.
We did not do a workshop with a trained CRI that would have cost 70 dollars..  We then purchased tickets that cost 15 dollars and headed over the to the exhibit Bob Ross at Home - Artist, Teacher, Friend.  Pictures were discouraged sadly, but some of the paintings on display can be found on the Minnetrista.net website under the heritage collection.  The painting were amazing some painted by other people and some by Bob himself.  What I found amazing was the scratch marks made by the knife and how visible and deep they were.  The exhibit was in the Oakhurst house on the second floor.  The house itself is lovely and well preserved.  The exhibit will run from Oct. 31, 2020 to August 2021 and well worth the visit.
We are going back later in November to visit the Bob Ross Experience at the LL Ball house, next door to Oakhurst.  I believe the experience costs 15 dollars and you can tour a restored studio where the Joy of Painting was filmed.
I would like to thank the staff at Minnetrista and Jim Needham for their kindness.  If you enjoy watching the Joy of Painting then visiting Minnetrista in Muncie, Indiana is well worth it.