Why paint in miniature? Part two: method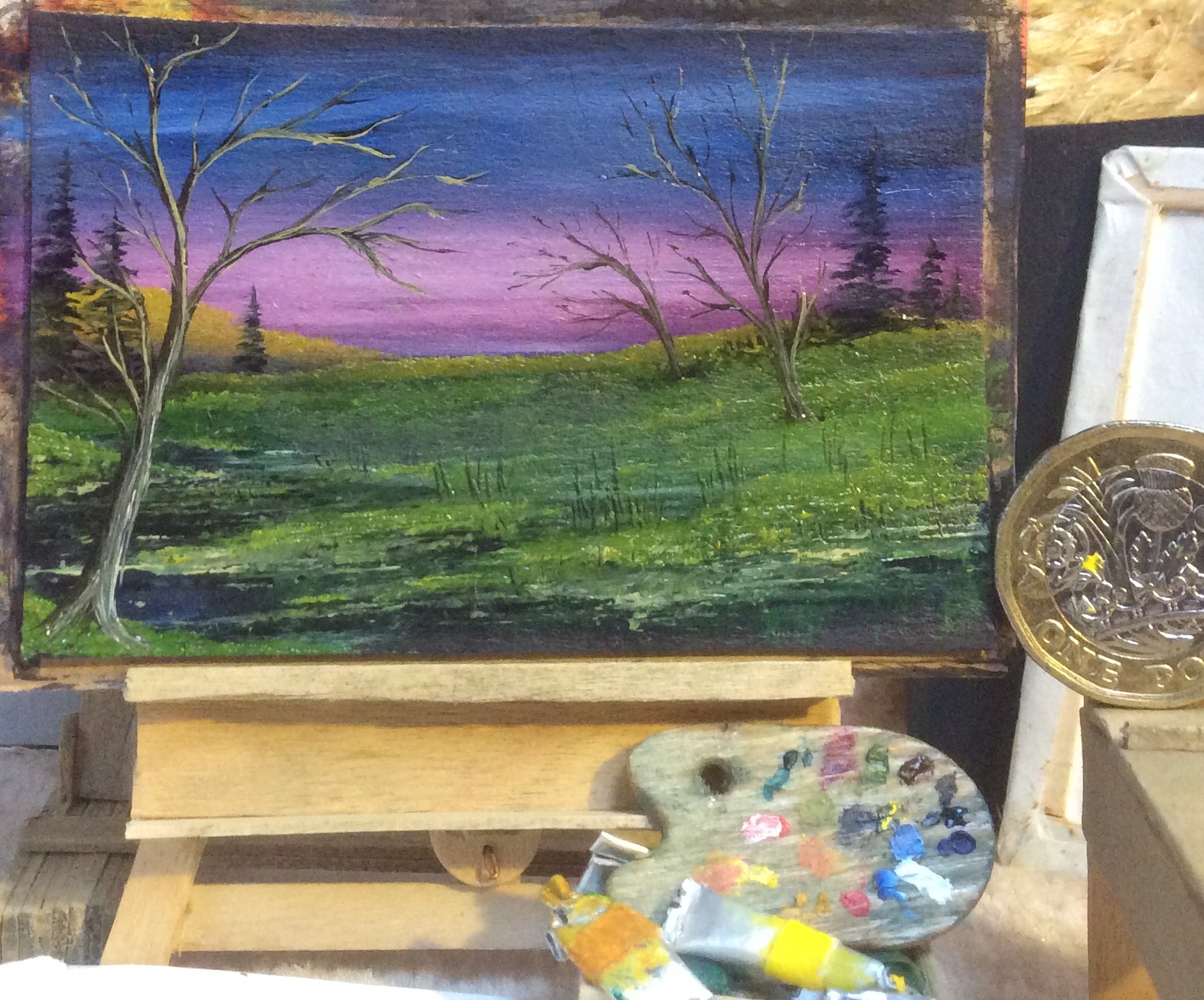 The practical benefits of going small, as well as the economy of paper, the tiny 'canvas' don't take up much space while they dry!
I suppose I use a scaled down version of Bob's two inch brush, one about a centimetre wide as my 'big' brush, and a selection of smaller brushes.
The brush I find most useful is my homemade liner, I make and remake this brush by taping a few bristles from a disintegrated sable brush ( the bristles came out of the ferrule of the mother brush and I try to never throw anything away that might prove useful ).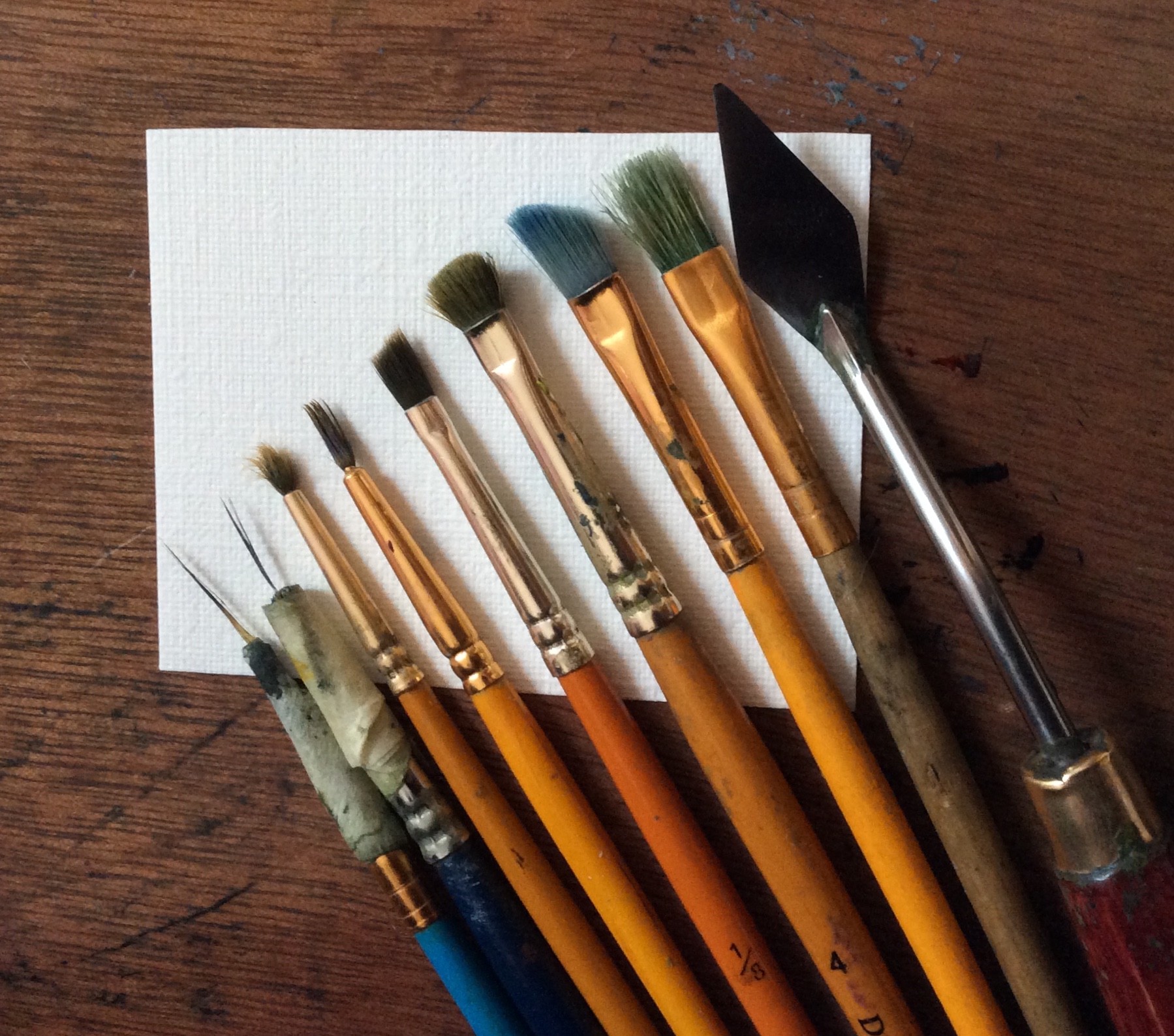 I have had to adapt Bob's large scale technique as too much paint on such a small scale is almost ANY paint at all !
I usually paint on textured oil painting paper, sometimes gessoed card.
I begin these 2"x3" pictures by cutting a rectangle of oil painting paper to the correct size using a template I made. For a black canvas I use thin card, usually from a rescued teabag carton and I give it two or three thin coats of black acrylic. I then use pva glue to stick my little canvas to a postcard sized piece of scrap card so I have more workable and rigid surface, it also stops me dropping and loosing the little rectangles!
I prepare my canvas with a tiny spot of walnut oil on my fingertip, which I lightly rub over the surface of the paper, then I add a dot of titanium white oil paint, which I smooth over, agin using my fingertip, I've found this gets it in to the grain more easily and makes a lovely even wet canvas.
I apply the sky and or water just as Bob instructs, using very little paint with the second largest 'big' brush and blend over with the crosscut, this gives a light  surface to work on that is mostly just colour, hardly any paint at all.
For the clouds I use the smaller brush, with I tiny bit of paint worked well into the bristles and a light dabbing motion, too much paint and you won't be able to blend it for that light airy cloudy feeling.
Waterlines, mountains, rocks, highlights, snow and shadows, I use the little painting knife, which I also prefer for my larger pictures. I follow Bob's mountain technique,  the only modification is that I tend to tap the snow and shadows, rather than the sweeping breaking movement that is used on a full sized canvas, I've just found that works better on such a small scale.
For Bob's sideways fan brush background forests I use the small diagonal brush, which I also use for the base of the evergreens, for the tops I use my mini liner brush, which I also use as an actual liner brush for fine branches and grass. For waterfalls I use the tiny rough hoghair brush as a fan brush, you can see it in the photo.
The main things that I have not mastered on a small scale are the silver birch bark rounding, (I probably need to make a tiny tipped knife!) and making those two tone rounded rocks, I can not make those work at all, on any scale. Please will someone write an article on how to make these, Bob makes it look so easy!
If you enjoyed reading this, then you've made me very happy!
Happy painting,
Neime K